𝐋𝐆𝐔 𝐐𝐮𝐞𝐳𝐨𝐧, 𝐐𝐮𝐞𝐳𝐨𝐧 𝐨𝐧𝐞 𝐨𝐟 𝐭𝐡𝐞 𝐓𝐨𝐩 𝐏𝐞𝐫𝐟𝐨𝐫𝐦𝐢𝐧𝐠 𝐋𝐆𝐔𝐬 𝐢𝐧 𝐑𝐄𝐆𝐈𝐎𝐍 𝟒𝐀 𝐂𝐀𝐋𝐀𝐁𝐀𝐑𝐙𝐎𝐍 𝐟𝐨𝐫 𝐭𝐡𝐞 𝐨𝐮𝐭𝐬𝐭𝐚𝐧𝐝𝐢𝐧𝐠 𝐩𝐞𝐫𝐟𝐨𝐫𝐦𝐚𝐧𝐜𝐞 𝐢𝐧 𝐮𝐩𝐥𝐨𝐚𝐝𝐢𝐧𝐠 𝐭𝐡𝐞 𝐕𝐀𝐒 (𝐕𝐚𝐜𝐜𝐢𝐧𝐞 𝐀𝐝𝐦𝐢𝐧𝐢𝐬𝐭𝐫𝐚𝐭𝐢𝐨𝐧 𝐒𝐲𝐬𝐭𝐞𝐦) 𝐋𝐈𝐍𝐄 𝐋𝐈𝐒𝐓
𝑆𝑜𝑢𝑟𝑐𝑒: 𝐷𝑒𝑝𝑎𝑟𝑡𝑚𝑒𝑛𝑡 𝑜𝑓 𝐼𝑛𝑓𝑜𝑟𝑚𝑎𝑡𝑖𝑜𝑛 𝑎𝑛𝑑 𝐶𝑜𝑚𝑚𝑢𝑛𝑖𝑐𝑎𝑡𝑖𝑜𝑛𝑠 𝑇𝑒𝑐ℎ𝑛𝑜𝑙𝑜𝑔𝑦 𝐿𝑢𝑧𝑜𝑛 𝐶𝑙𝑢𝑠𝑡𝑒𝑟 2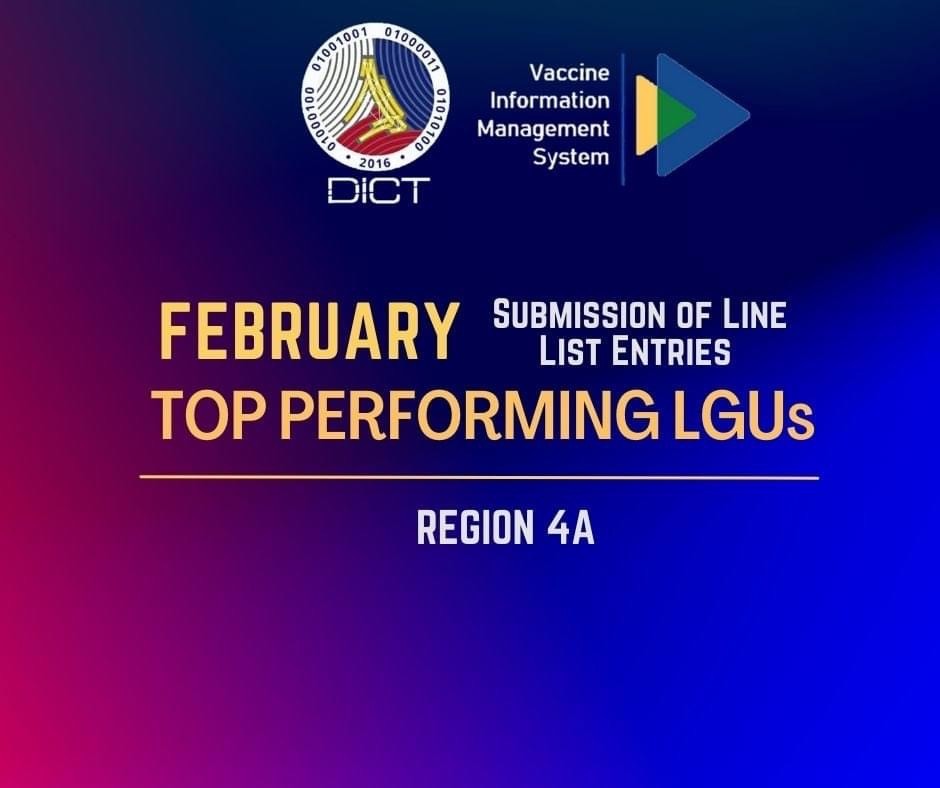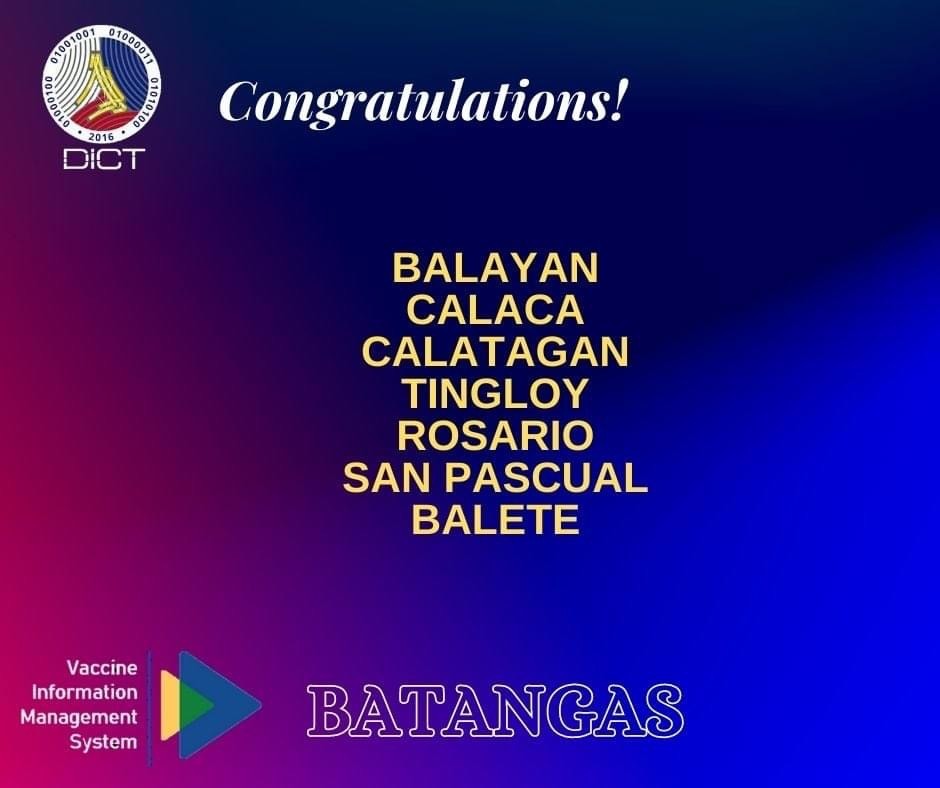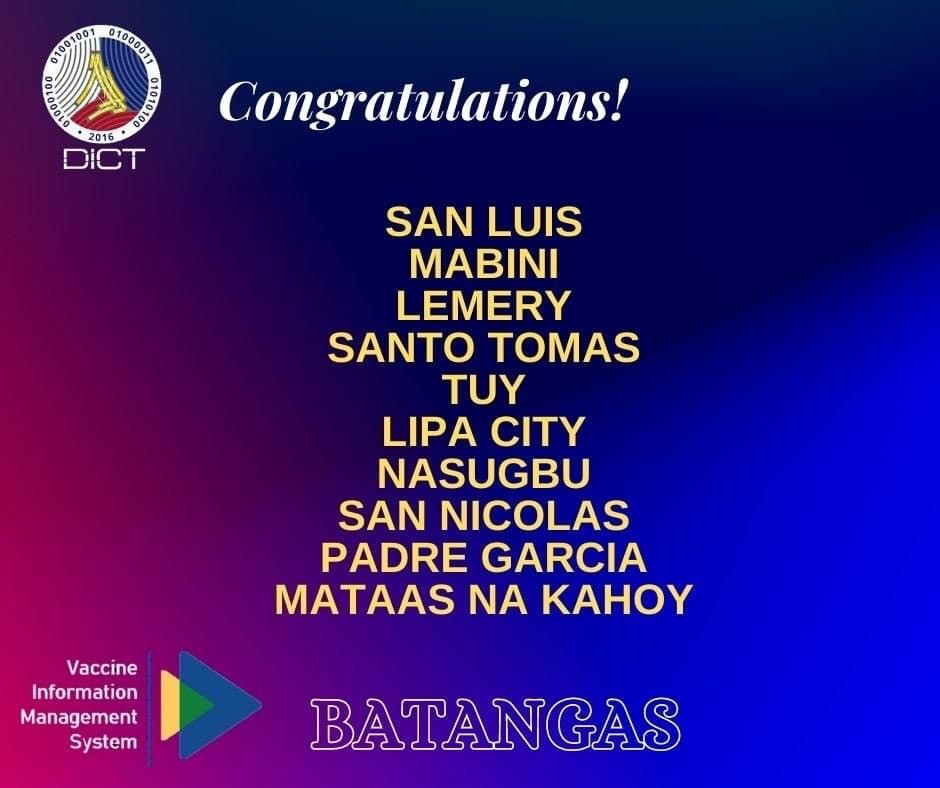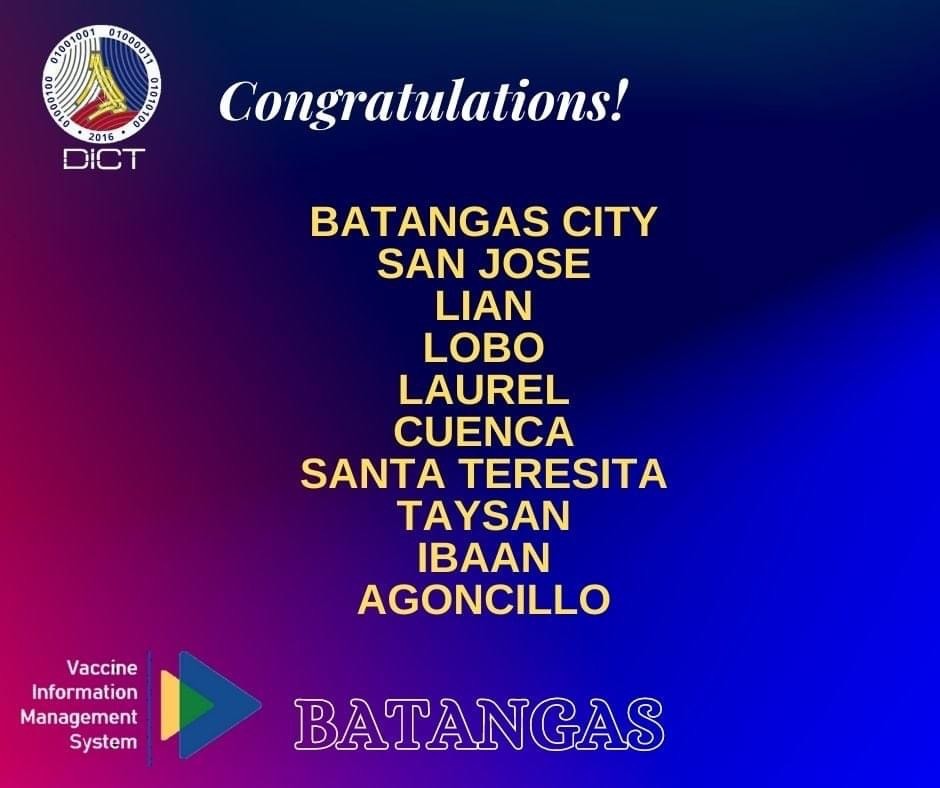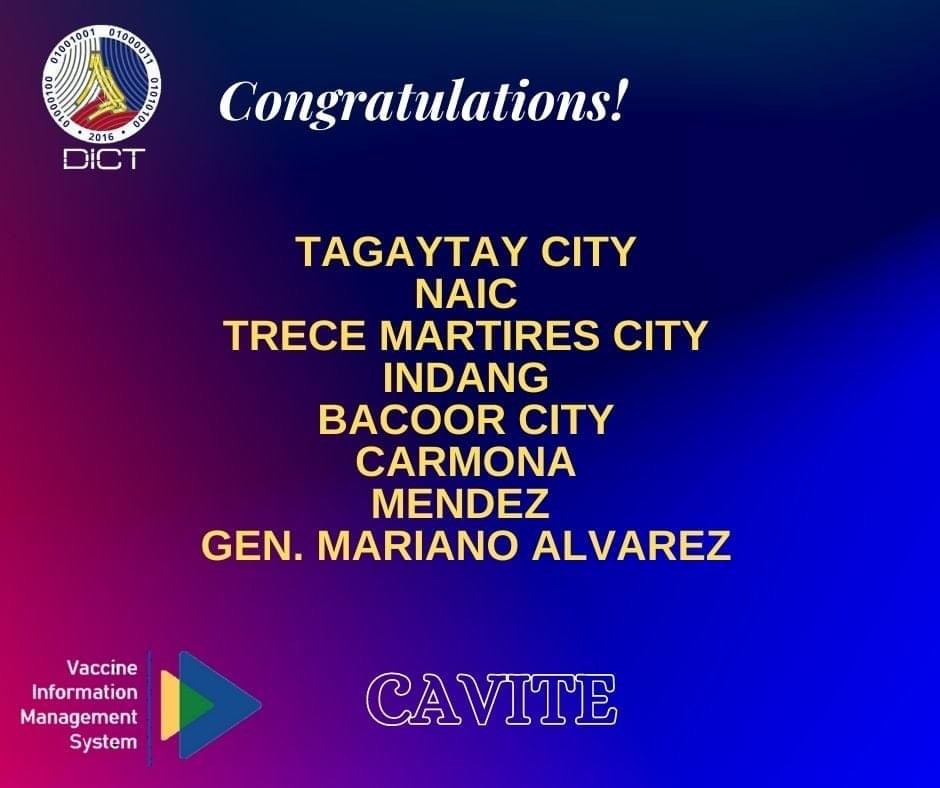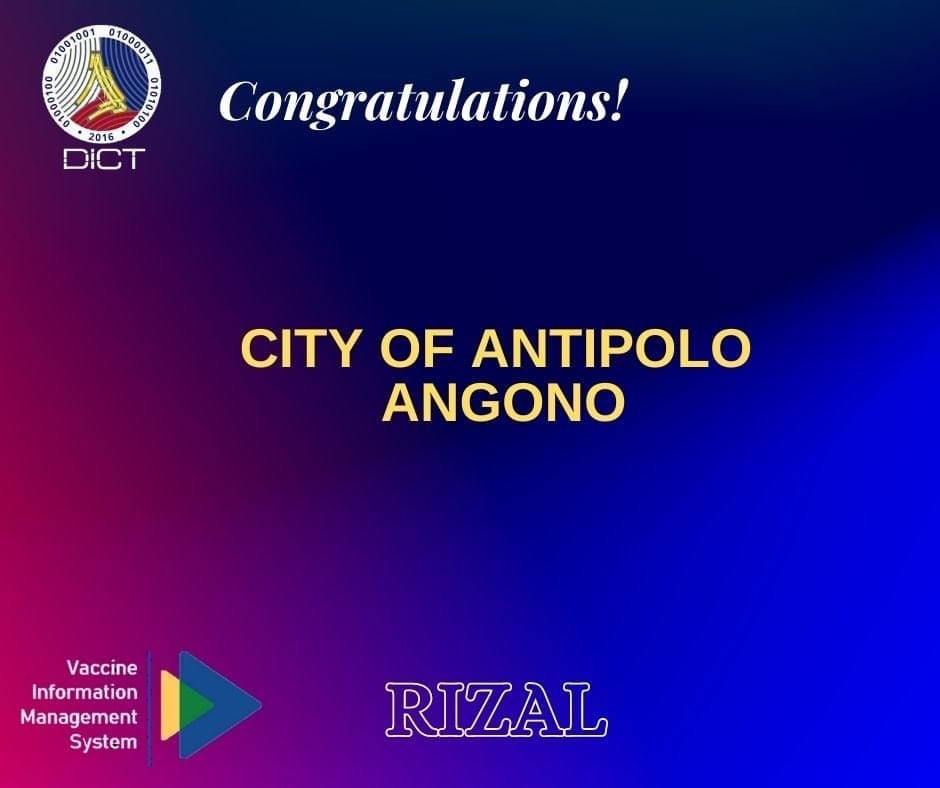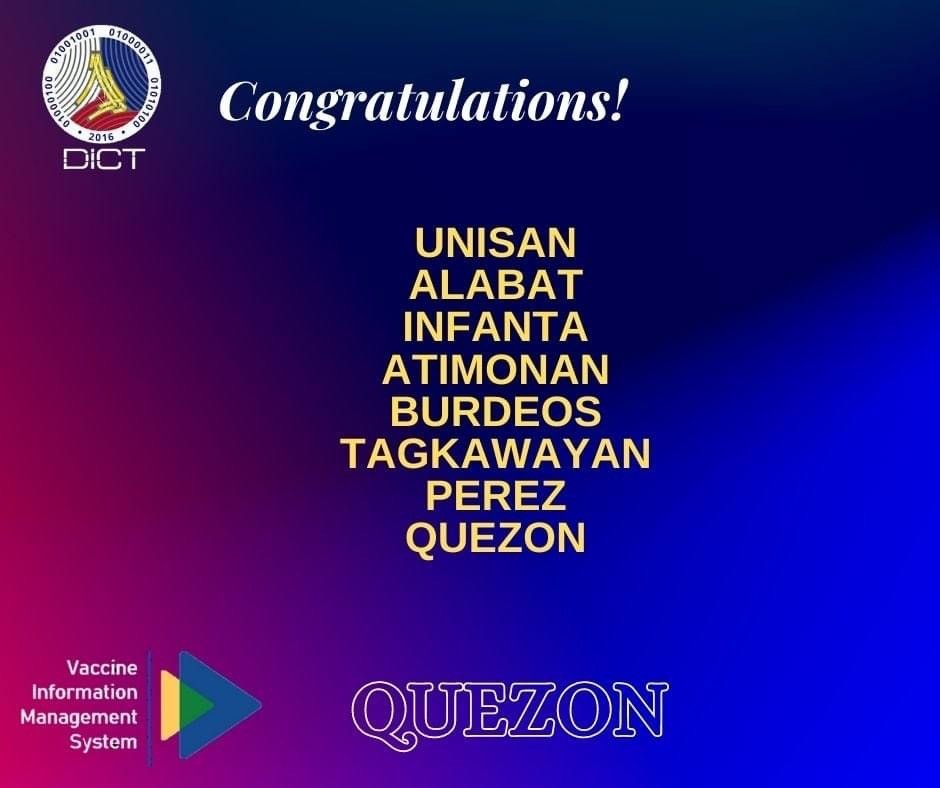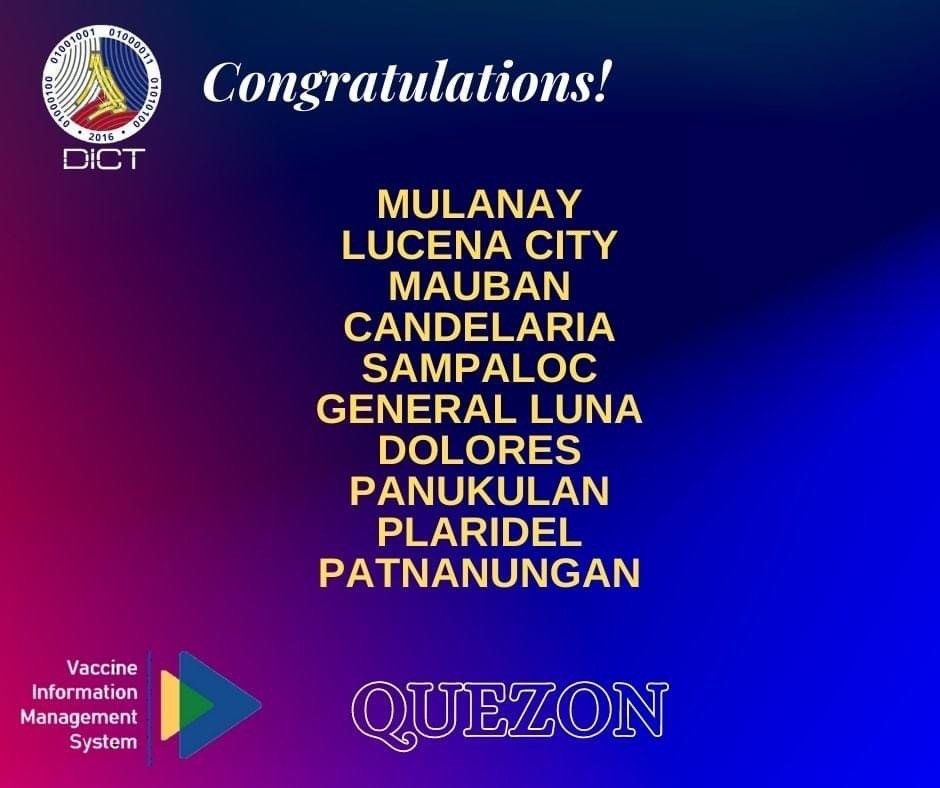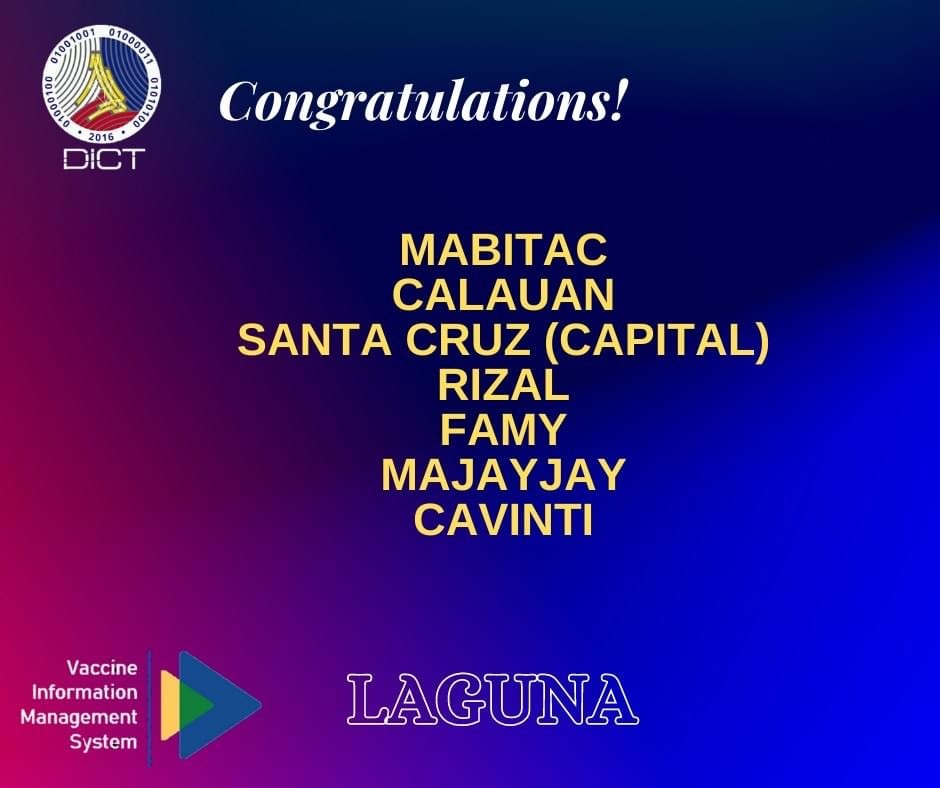 In line with the National Vaccination Program, Vaccine Line List shall be the official and primary record of all vaccination events of citizens and residents of the Philippines. Each LGU is responsible for submitting the Line Lists for their jurisdiction to the VAS Uploader, which is run jointly by DOH and DICT. All Vaccine Certificates shall be issued using the Vaccine Line List as the sole source of records.
The Department of Information and Communications Technology Luzon Cluster 2 would like to congratulate the following LGUs from each province in REGION 4A for their outstanding performance in uploading their VAS LINE LIST with 98%-100% completion rate for the month of FEBRUARY.
Thank you for your unwavering commitment in updating and uploading the vaccination records of your constituents.
#DREAMTEAM
#VIMS #DICTLC2