𝐓𝐄𝐂𝐇𝟒𝐄𝐃 𝐖𝐄𝐁 𝐃𝐄𝐕𝐄𝐋𝐎𝐏𝐌𝐄𝐍𝐓 𝐔𝐒𝐈𝐍𝐆 𝐖𝐎𝐑𝐃𝐏𝐑𝐄𝐒𝐒 𝐖𝐄𝐁𝐈𝐍𝐀𝐑 || 𝐌𝐚𝐫𝐜𝐡 𝟏𝟖, 𝟐𝟎𝟐𝟐
𝑆𝑜𝑢𝑟𝑐𝑒: 𝑇𝑒𝑐ℎ4𝐸𝐷 𝑃𝑟𝑜𝑔𝑟𝑎𝑚 – 𝐷𝐼𝐶𝑇 𝐿𝑢𝑧𝑜𝑛 𝐶𝑙𝑢𝑠𝑡𝑒𝑟 2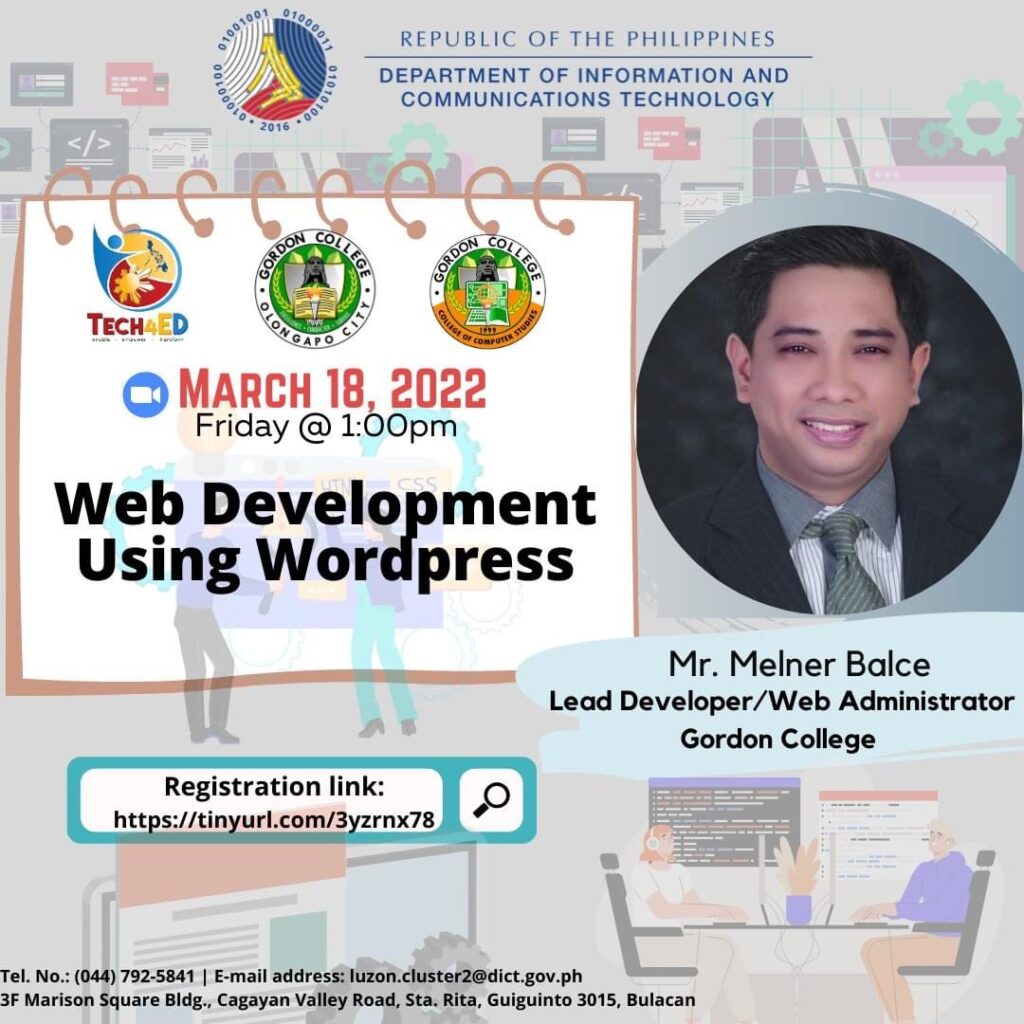 Are you planning to create professional websites? Or you might be a passionate designer dipping a toe into the digital world? Want to learn to develop complete sites using WordPress?
If your answer is YES !!! Then, we are here for you!!
The Department of Information and Communications Technology Luzon Cluster II (DICT-LC2) through the Tech4ed Program will be conducting a webinar entitled "WEB DEVELOPMENT USING WORDPRESS", this topic focuses on the full command of WordPress environment that helps you to create dynamic websites that look in any way you want! YES! It may also serve as a stepping stone to upgrade your knowledge and do so much more!
So let us gather and join this EXCITING webinar on March 18, 2022
Feel free to register on the link below to SERVE YOUR SLOT!
https://tinyurl.com/3yzrnx78
See you!!!
#Tech4ED
#Tech4ALL
#DICTLC2