𝐓𝐄𝐂𝐇𝟒𝐄𝐃 𝐕𝐈𝐃𝐄𝐎 𝐄𝐃𝐈𝐓𝐈𝐍𝐆 𝐓𝐄𝐂𝐇𝐍𝐈𝐐𝐔𝐄𝐒 𝐖𝐄𝐁𝐈𝐍𝐀𝐑 || 𝐀𝐩𝐫𝐢𝐥 𝟒, 𝟐𝟎𝟐𝟐
𝑆𝑜𝑢𝑟𝑐𝑒: 𝐷𝐼𝐶𝑇 – 𝑄𝑢𝑒𝑧𝑜𝑛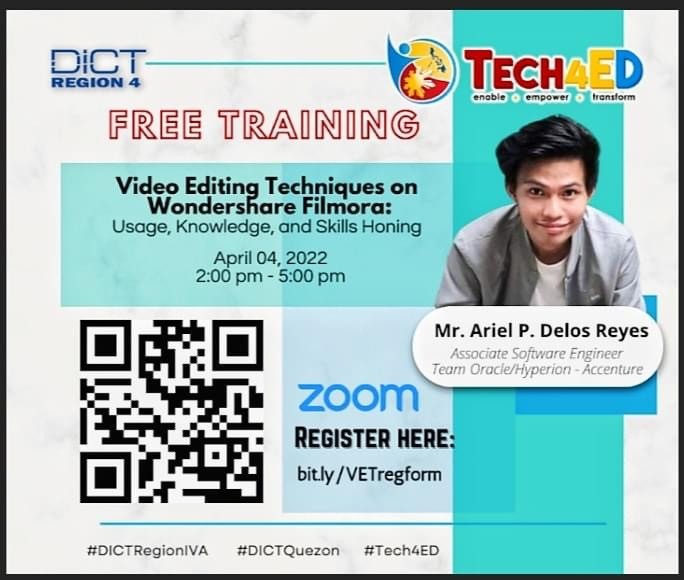 Are you having hard time to create appealing video poster through editing? Or maybe a person who wants to improve his/her editing skills but don't know how to start? Well, if you are! We've got you covered!
The Department of Information and Communications Technology Region IV-A, through the Tech4ED Program, will initiate a webinar that provide step by step procedures to create an amazing posters, videos or pictures through editing in Filmora.
Tomorrow, April 4, 2022, at 2:00-5:00 in the afternoon, join us as we witness how Mr. Ariel P. Delos Reyes, Associate Software Engineer help us to discover our creativity in editing through his webinar entitled "Video Editing Techniques on Wondershare Filmora"
For those interested to join the training workshop, you may download the Filmora application in advance so you can maximize the learning by doing!
And don't forget to register through the link below and remember the training zoom will accommodate the first 500 registrants ONLY!! Grab your slots now!
bit.ly/VETregform
Tech4ED
DICTQuezon