𝐓𝐄𝐂𝐇𝟒𝐄𝐃 𝐏𝐑𝐎𝐆𝐑𝐀𝐌 𝐋𝐈𝐕𝐄 𝐒𝐓𝐑𝐄𝐀𝐌𝐈𝐍𝐆 𝐏𝐋𝐀𝐓𝐅𝐎𝐑𝐌𝐒 𝐖𝐄𝐁𝐈𝐍𝐀𝐑 || 𝐌𝐚𝐫𝐜𝐡 𝟐𝟓, 𝟐𝟎𝟐𝟐
𝑆𝑜𝑢𝑟𝑐𝑒: 𝑇𝐸𝐶𝐻4𝐸𝐷 𝑃𝑅𝑂𝐺𝑅𝐴𝑀 – 𝐷𝐼𝐶𝑇 𝐿𝑢𝑧𝑜𝑛 𝐶𝑙𝑢𝑠𝑡𝑒𝑟 2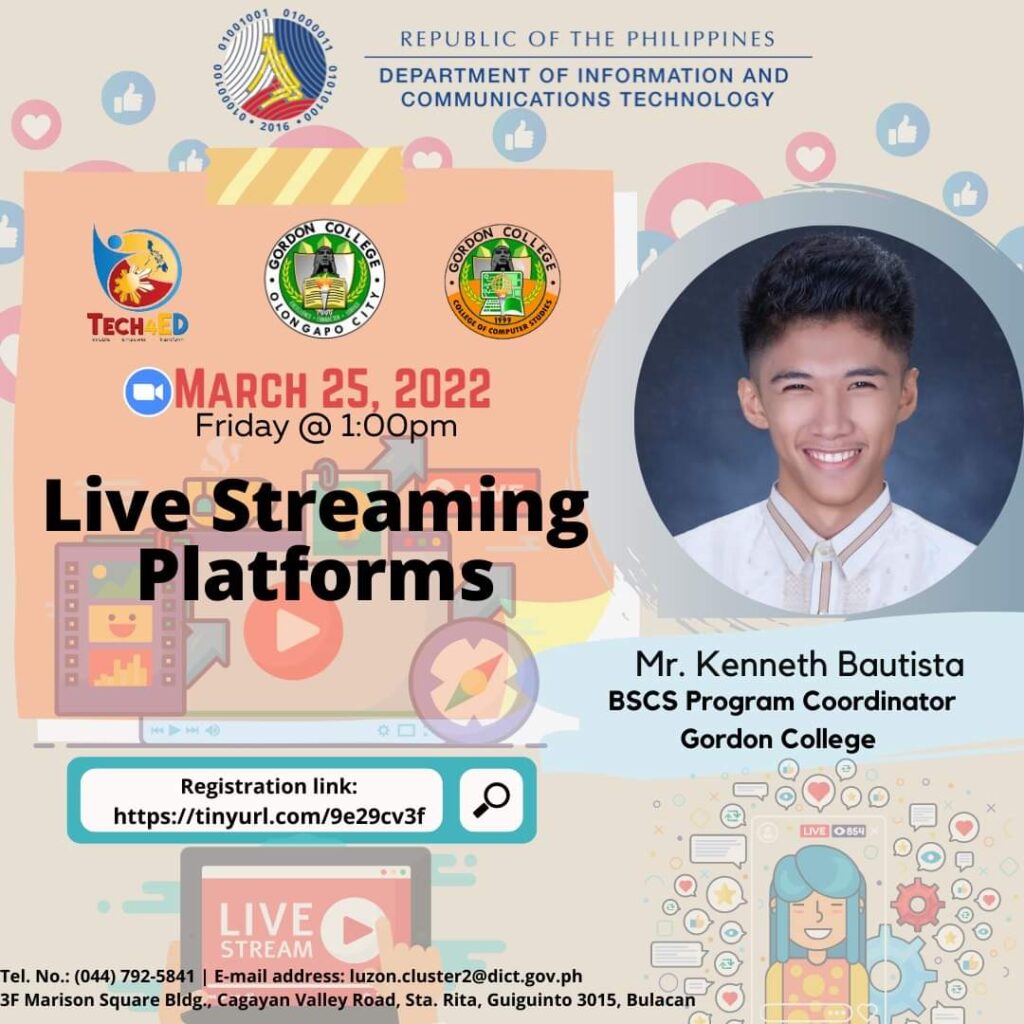 Are you interested in live streaming? Do you enjoy watching, creating, and sharing videos in real-time? If yes, this webinar is perfect for you!
For free, you will be able to learn how to be an outstanding digital creator and presenter, and you will be seen and heard by your target audience. With Mr. Kenneth Bautista, BSCS Program Coordinator from Gordon College, we will explore different live streaming platforms. What are you waiting for?

Hurry up, and join us by registering through the link: https://tinyurl.com/9e29cv3f

See you all on March 25, 2022, at 1:00 in the afternoon!
Tech4ED
Tech4ALL
DICTLC2